Workshops
2019 Mornington Peninsula Shire
Red Hill Consolidated School
MAPPING THE BAY
As a result of my residency at Police Point in 2018 I worked with the Red Hill Consolidated School class 5G on an environmental project where the students painted, drew and collaged their impressions of what the Mornington Peninsula and its beautiful and diverse environment meant to them.These were photographed, cropped and glued on to pre-cut wooden puzzle pieces of a map of the Mornington Peninsula.MApping the bay was unveiled at a morning tea with the teachers and students and is now displayed at the school as a beautiful community art work.
The finished map.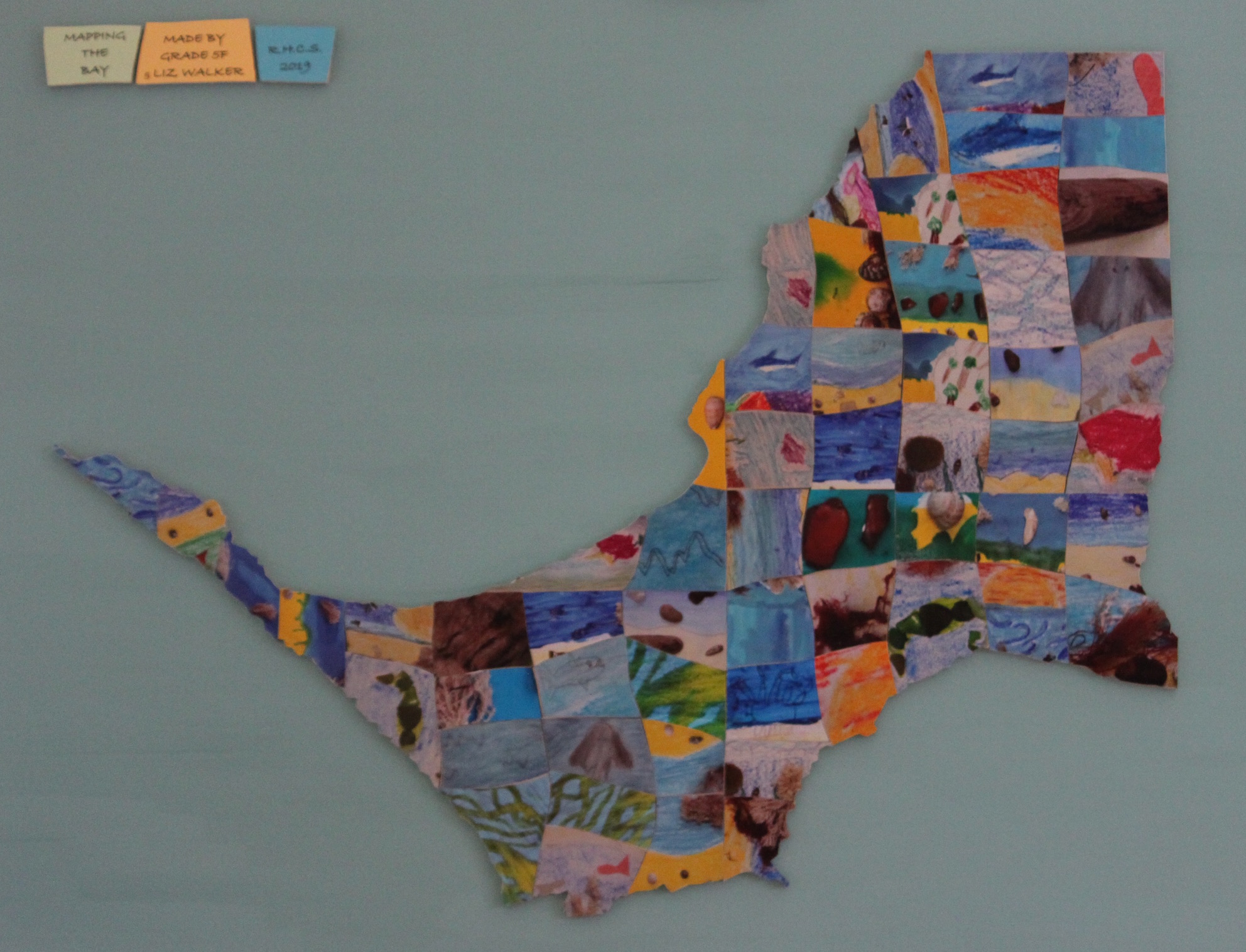 The photographs of students art works ready for gluing ,cutting and final placement.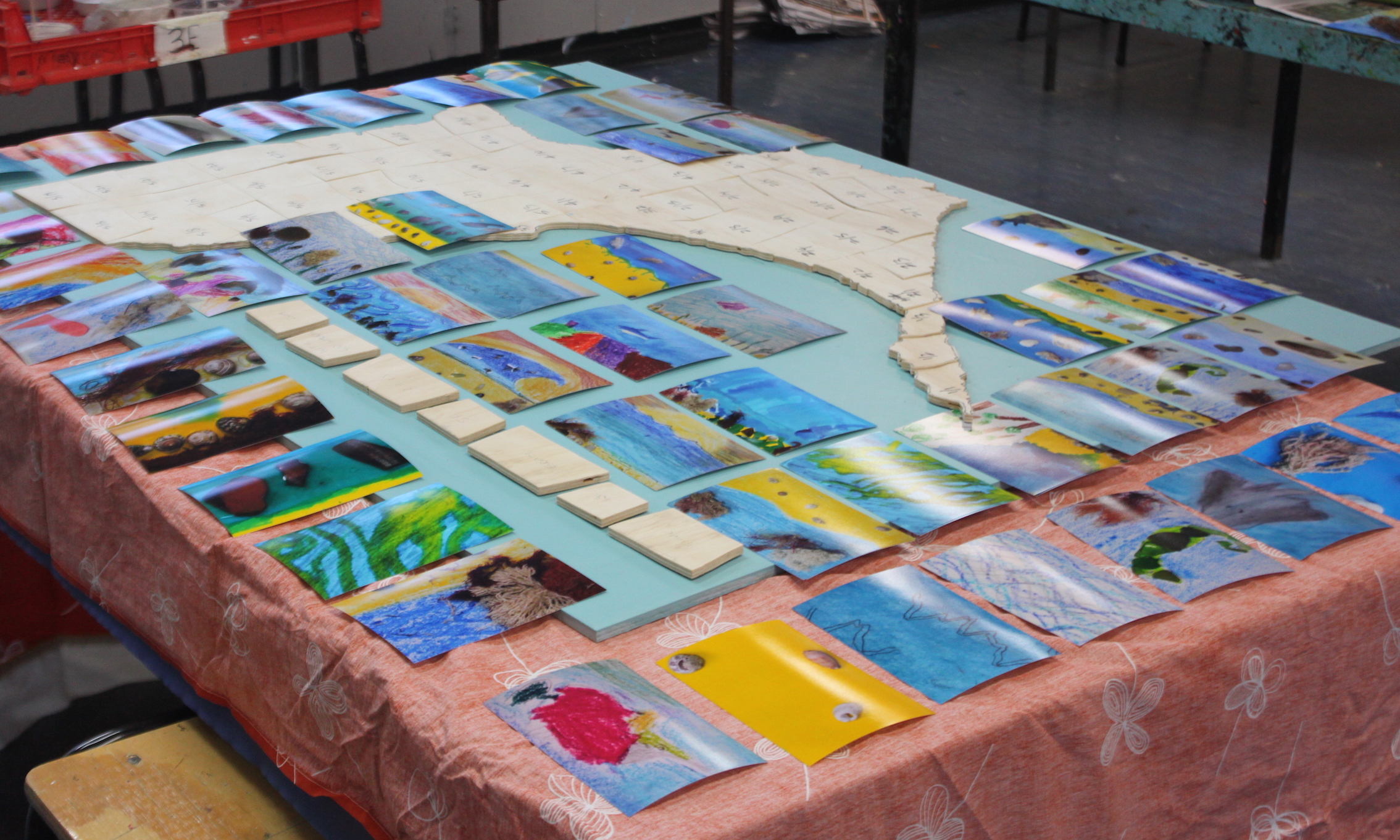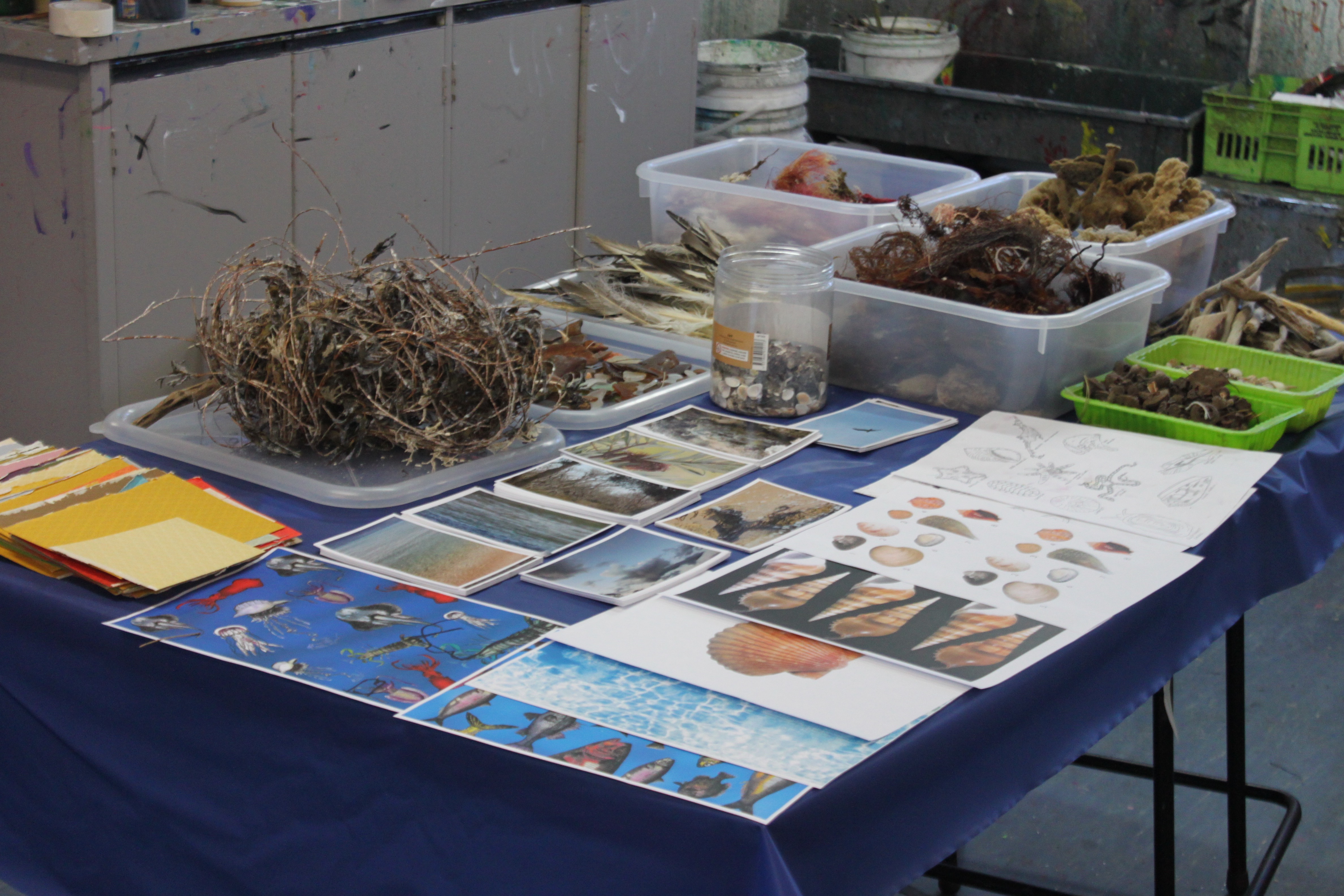 There were plenty of natural materials to choose from.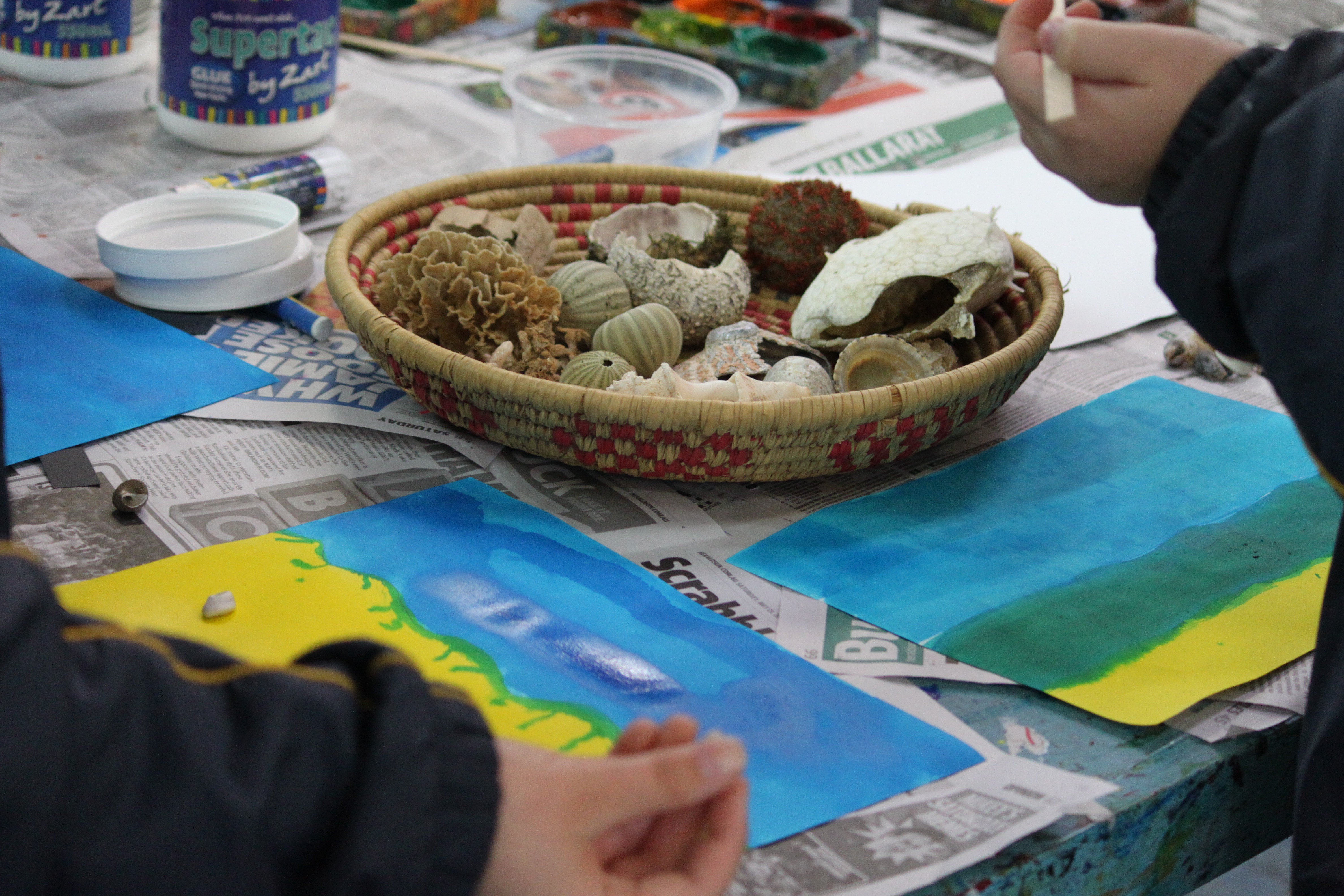 choosing bits and pieces to use in their work.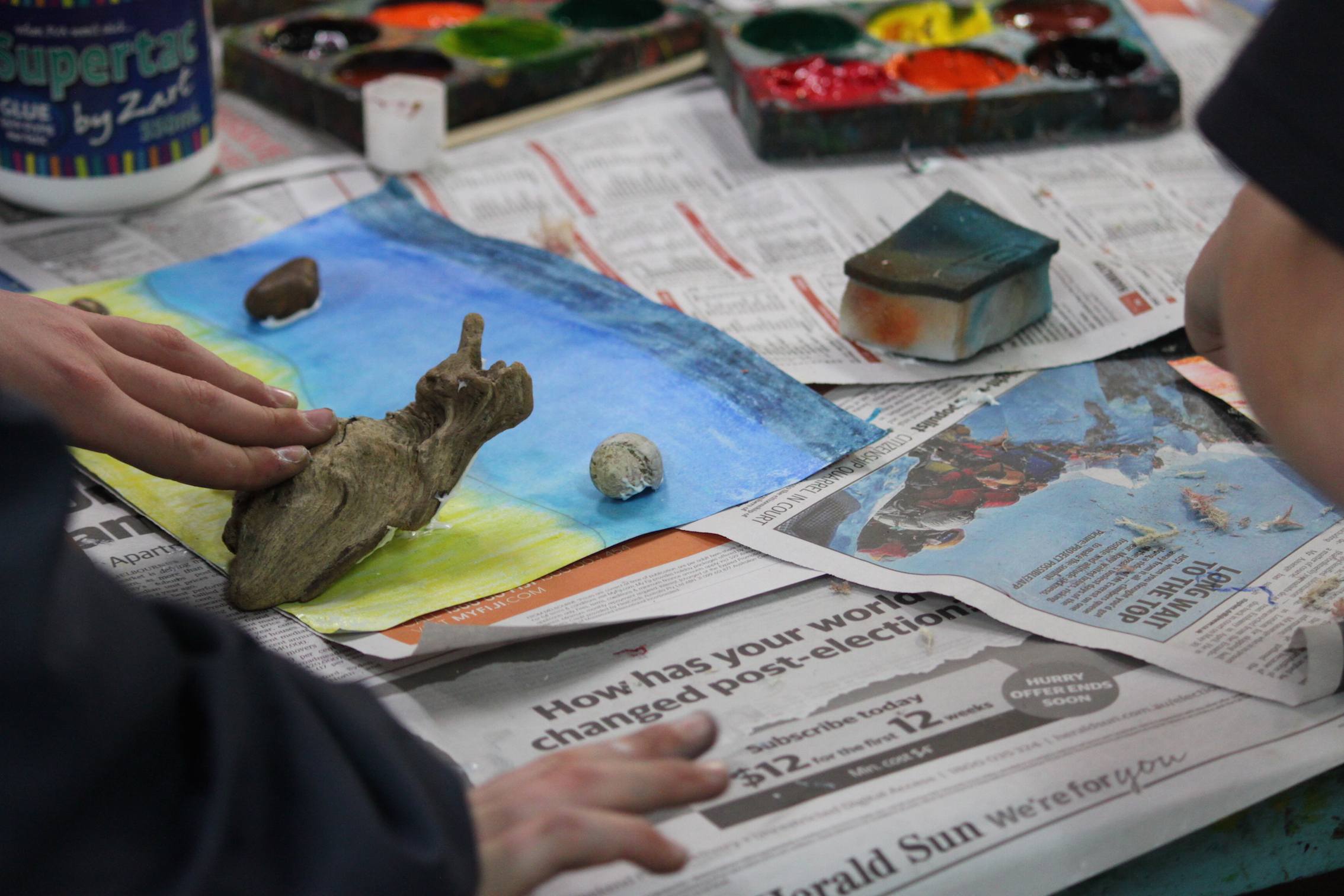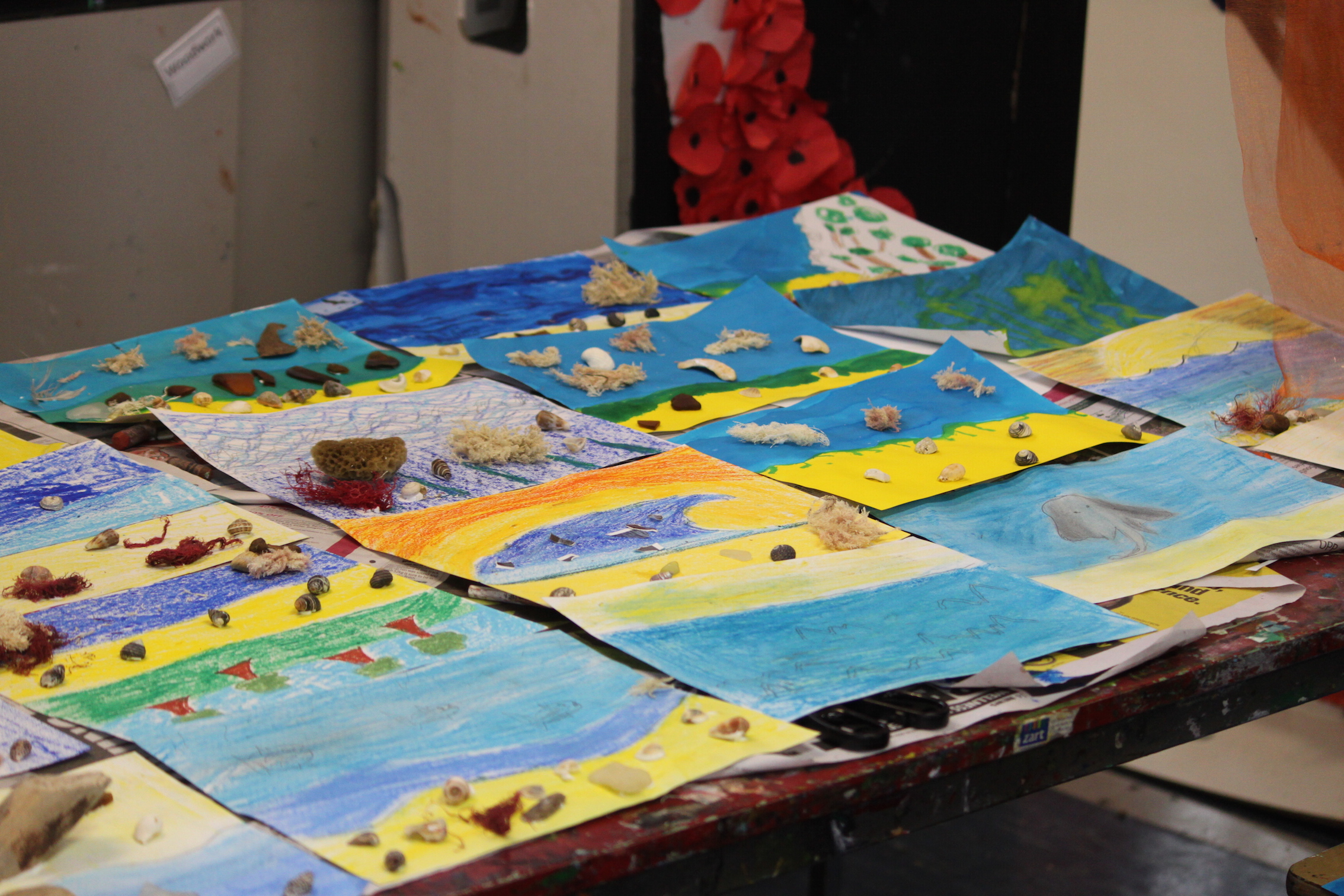 The students really got involved in this project and came up with some fantastic work.
2019 G.R.A.I.N.Store Nathalia
MARKING THE NATURE OF THINGS
with AVIS GARDNER
While in Nathalia for two weeks as artists in residence at the remarkable G.R.A.I.N Store, Avis and I delivered a series of community workshops which culmunated in an exhibition Marking the nature of things.
Firstly we spent a day foraging for natural materials along the roadside, in padocks, along the river and around town. Looking for and finding the most beautiful objects and fragments that usually go unnoticed.
Paticipants worked on a 20 x 20 cm board making panels for a three dimensional map of the region that would then be printed as a wall map, postcards and other promotional material for the G.R.A.I.N.Store.
Each workshop represented a different area or natural environment and the outcome was spectacular. Participants ranged from 2 years to 92 years and everyone agreed it was a fabulous , fun and inspiring project
Paper clay, natural food colors and foraged ephemera all worked beautifully together to create a unique community work- one the locals can be very proud of.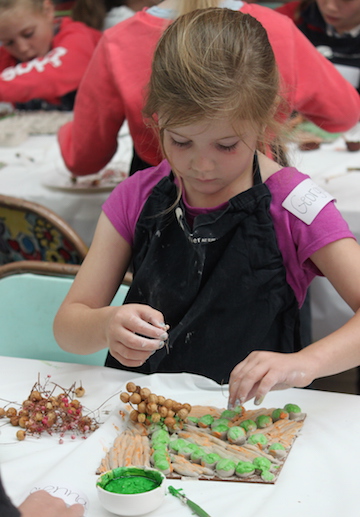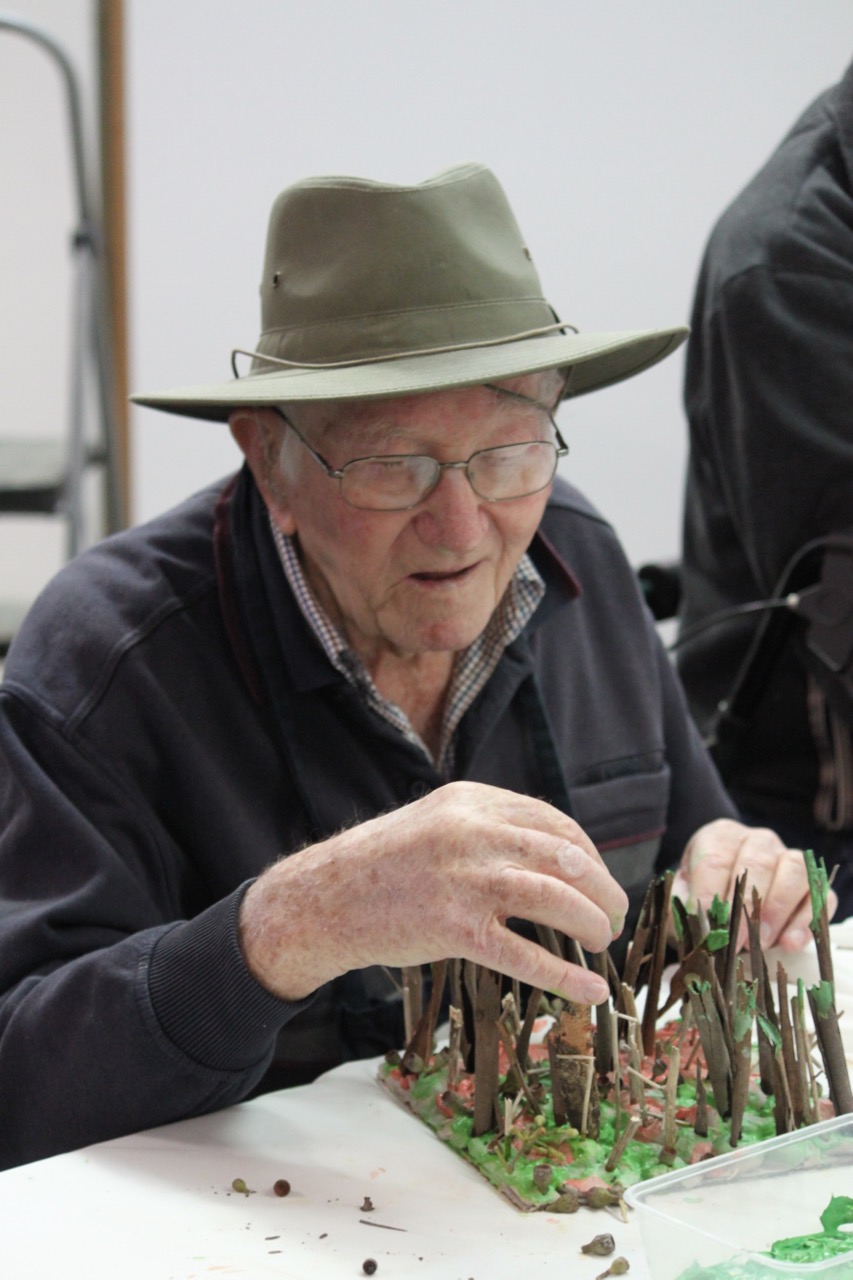 working of the map pieces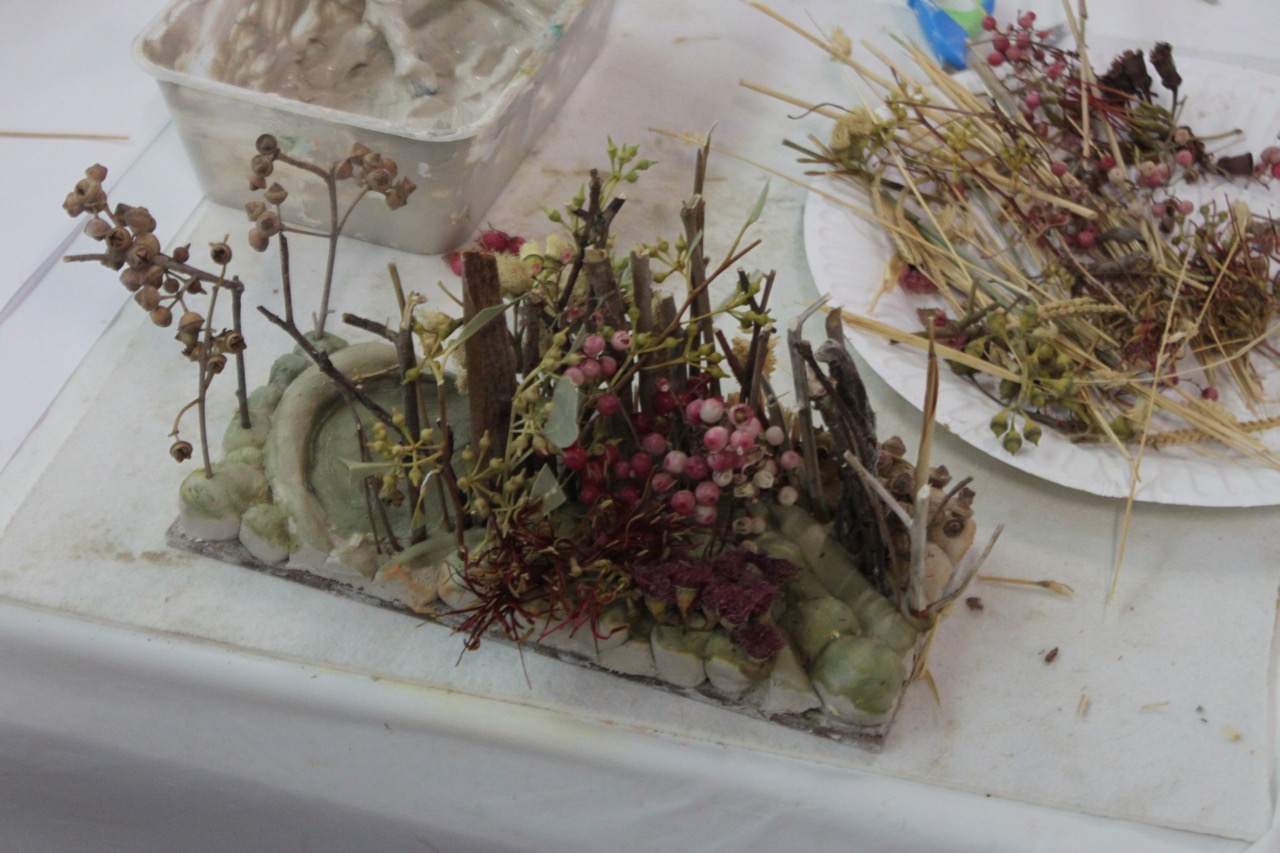 one of the finished segments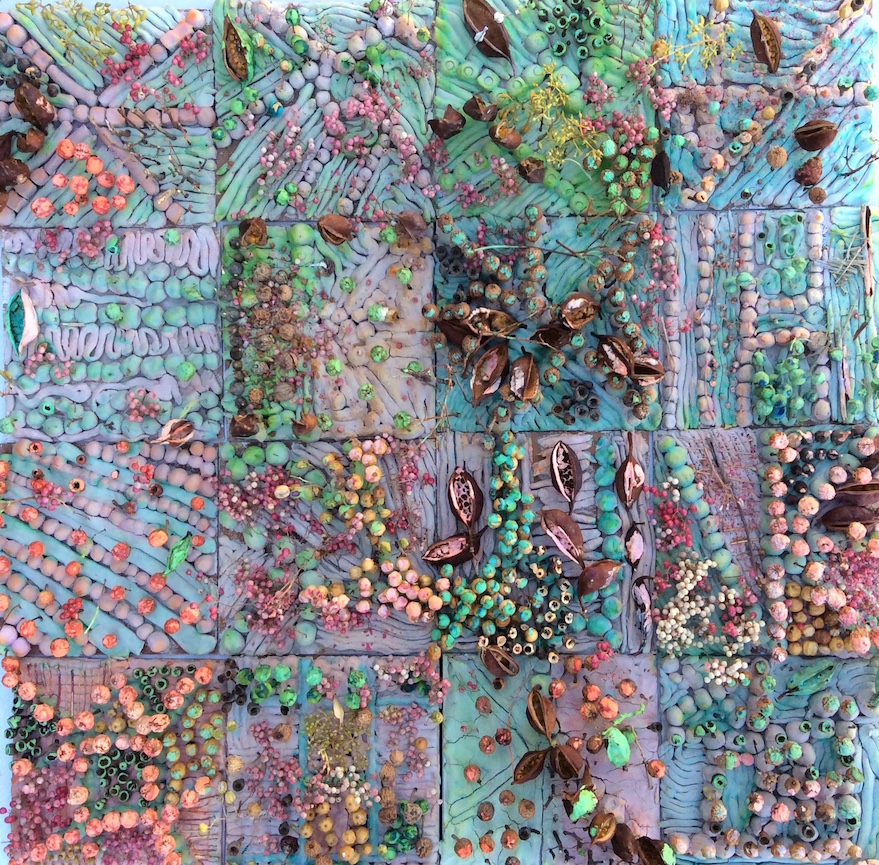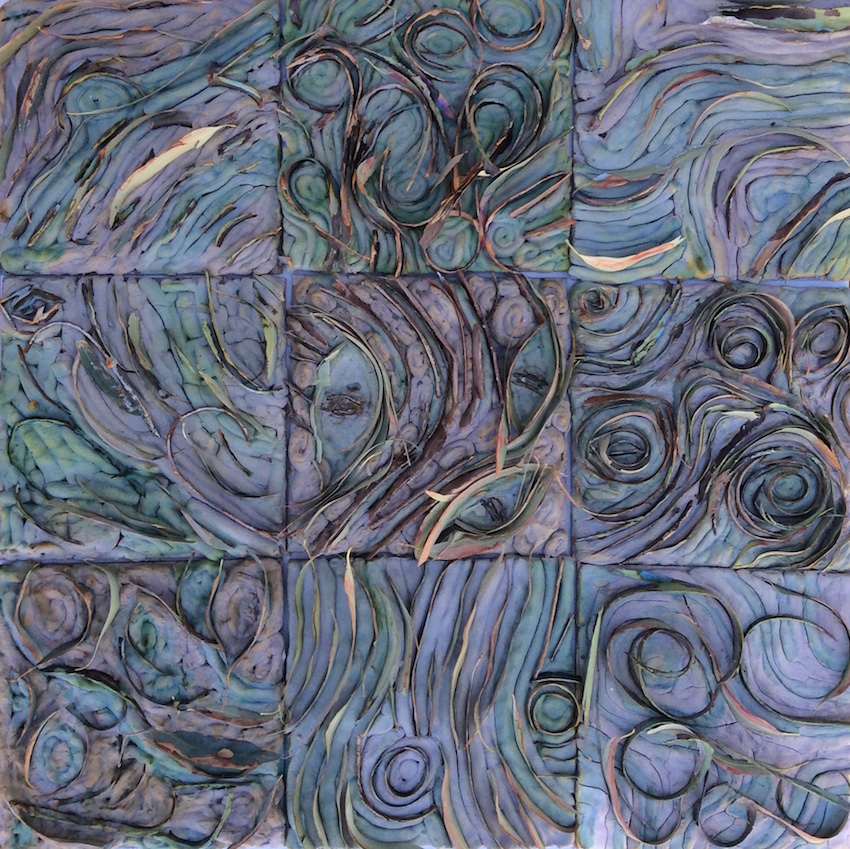 2019 Mornington Peninsula Shire
Police Point Shire Park Sub Committee
Point Nepean
MAPPING THE POINT
Members of the Police Point Shire Park Sub Committee worked together to create a wooden map of the point celebrating the environmental and historical significance of the area.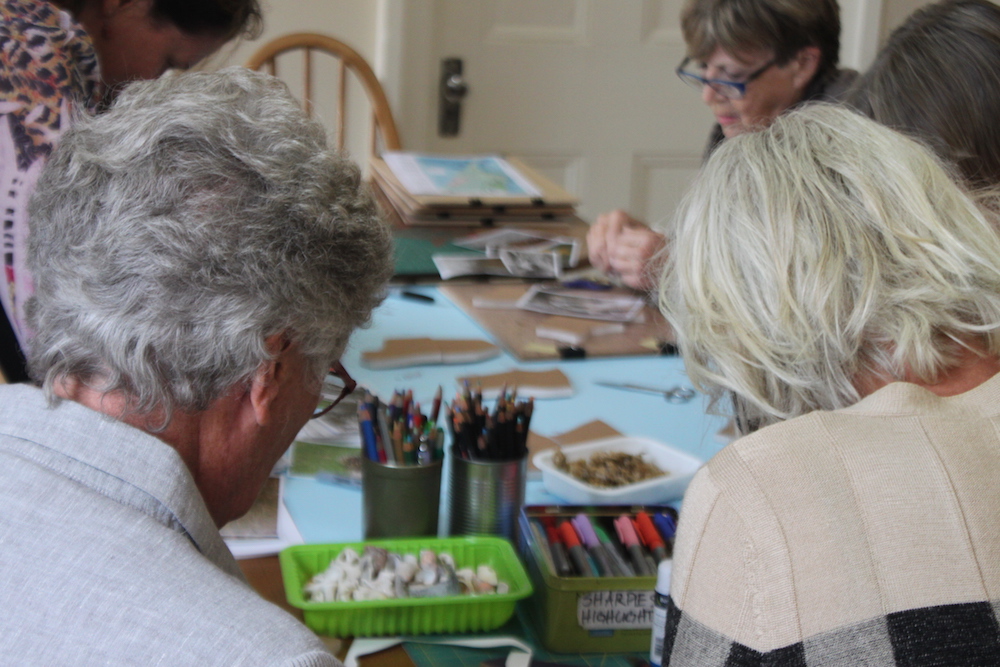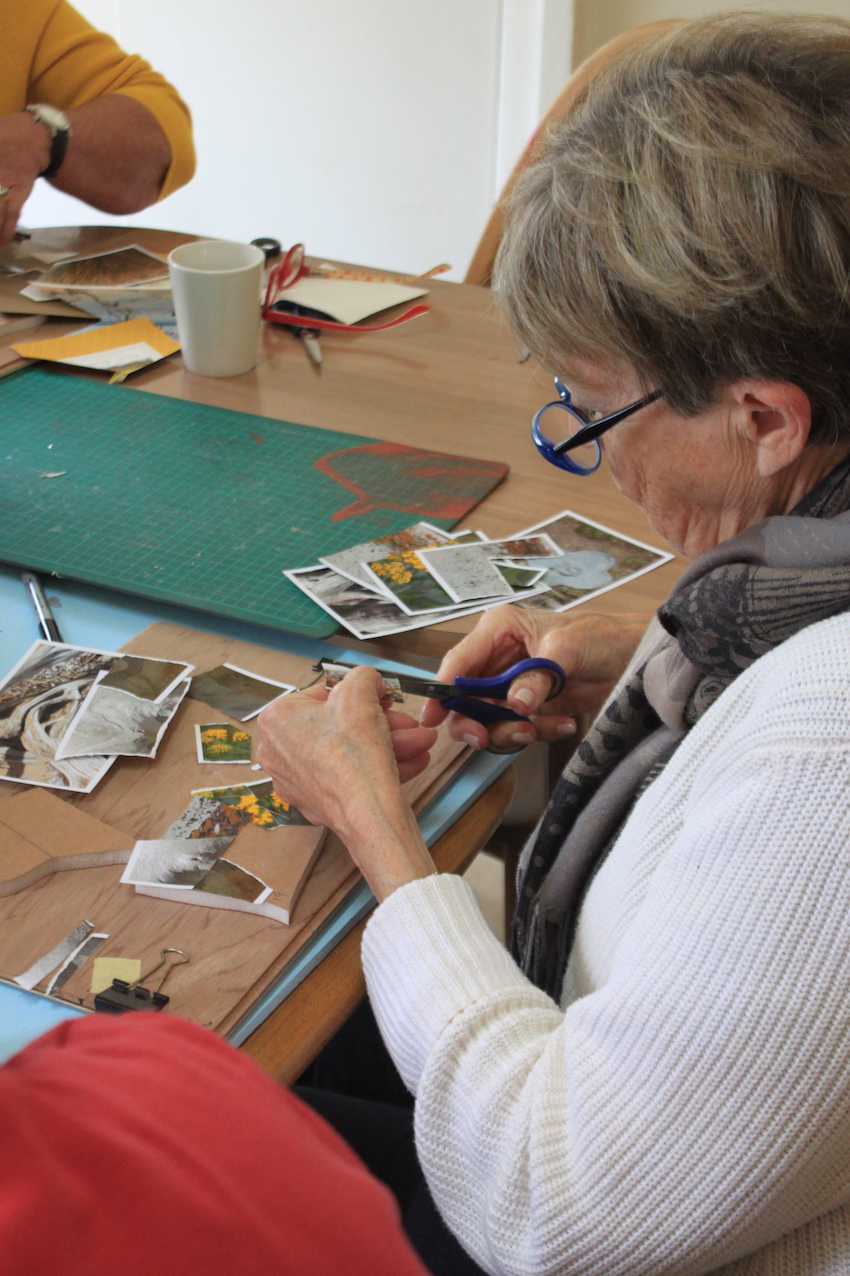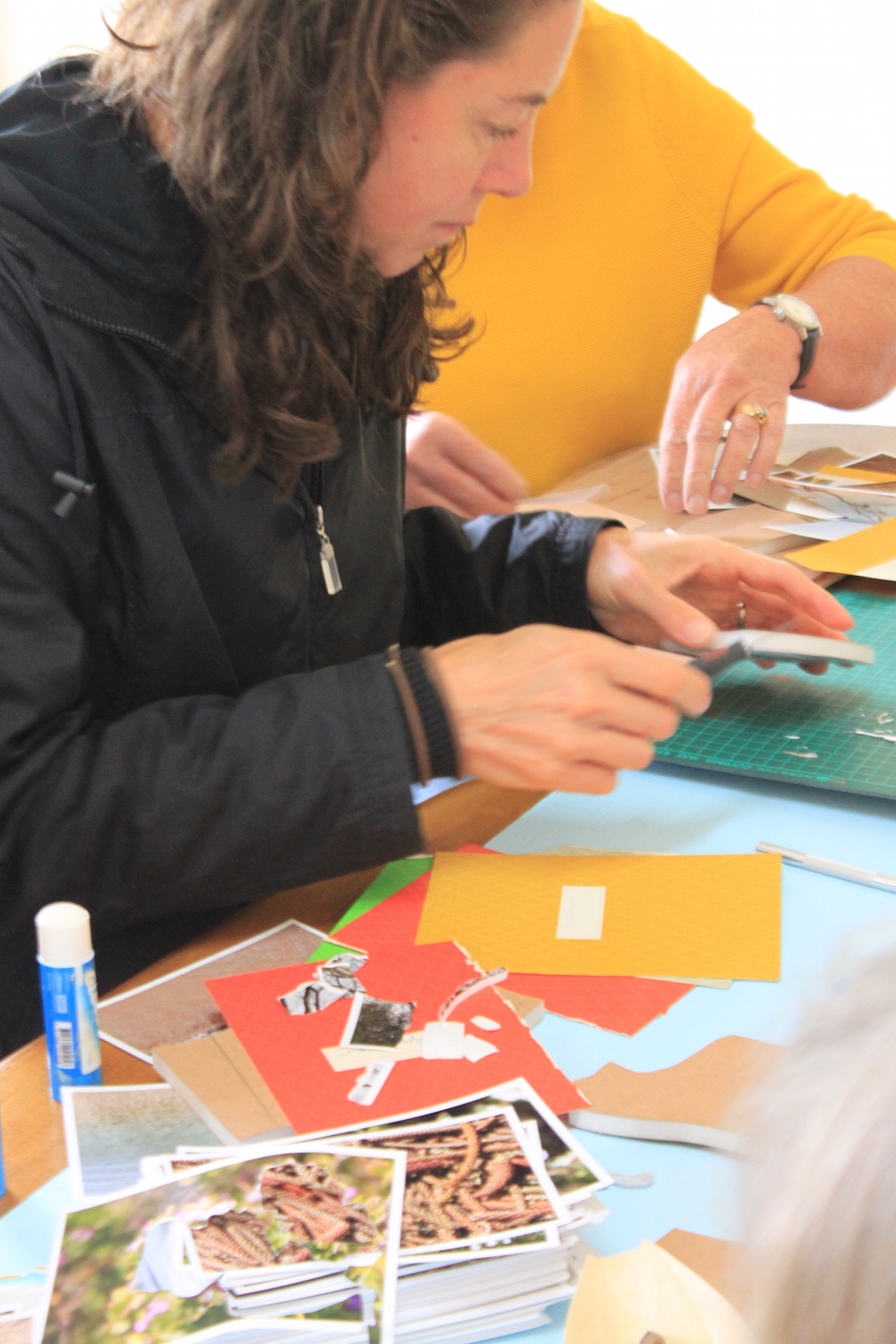 2019 Moreland Council
Glenroy Street Party and Glenroy Festival
GO! GLENROY GO!
with AVIS GARDNER
Avis and I worked with the local community to create a vibrant celebration of the diversity of Glenroy- a changing community which values acceptance, respect and identity.This accessible , sustainable and fun art project was suitable for all ages and abilities.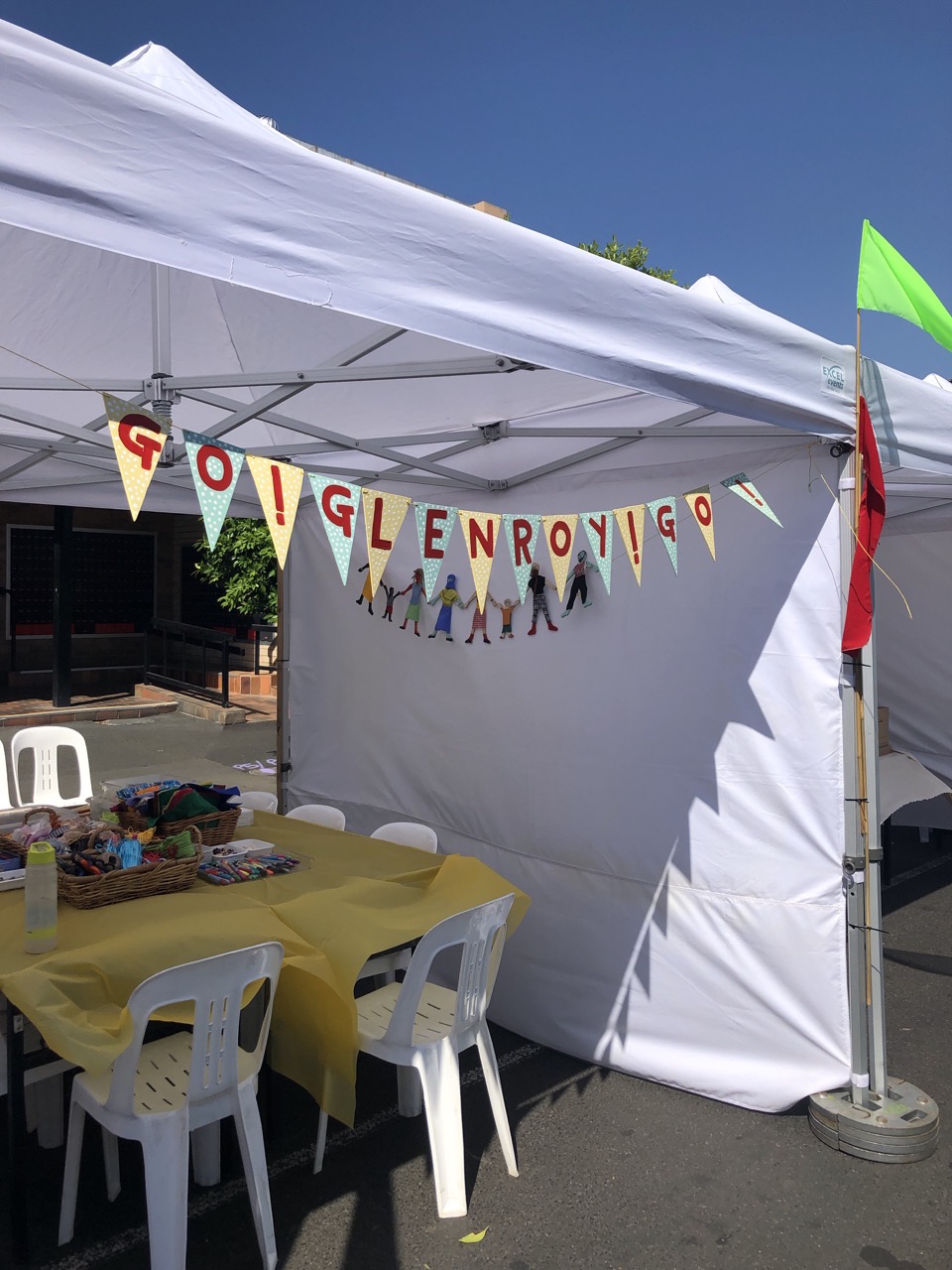 Participants chose either adult or child sized precut wooden figures to transform into any ethnicity, gender or ability and decorated them in their own likeness or as how they see themselves as individuals or in their community.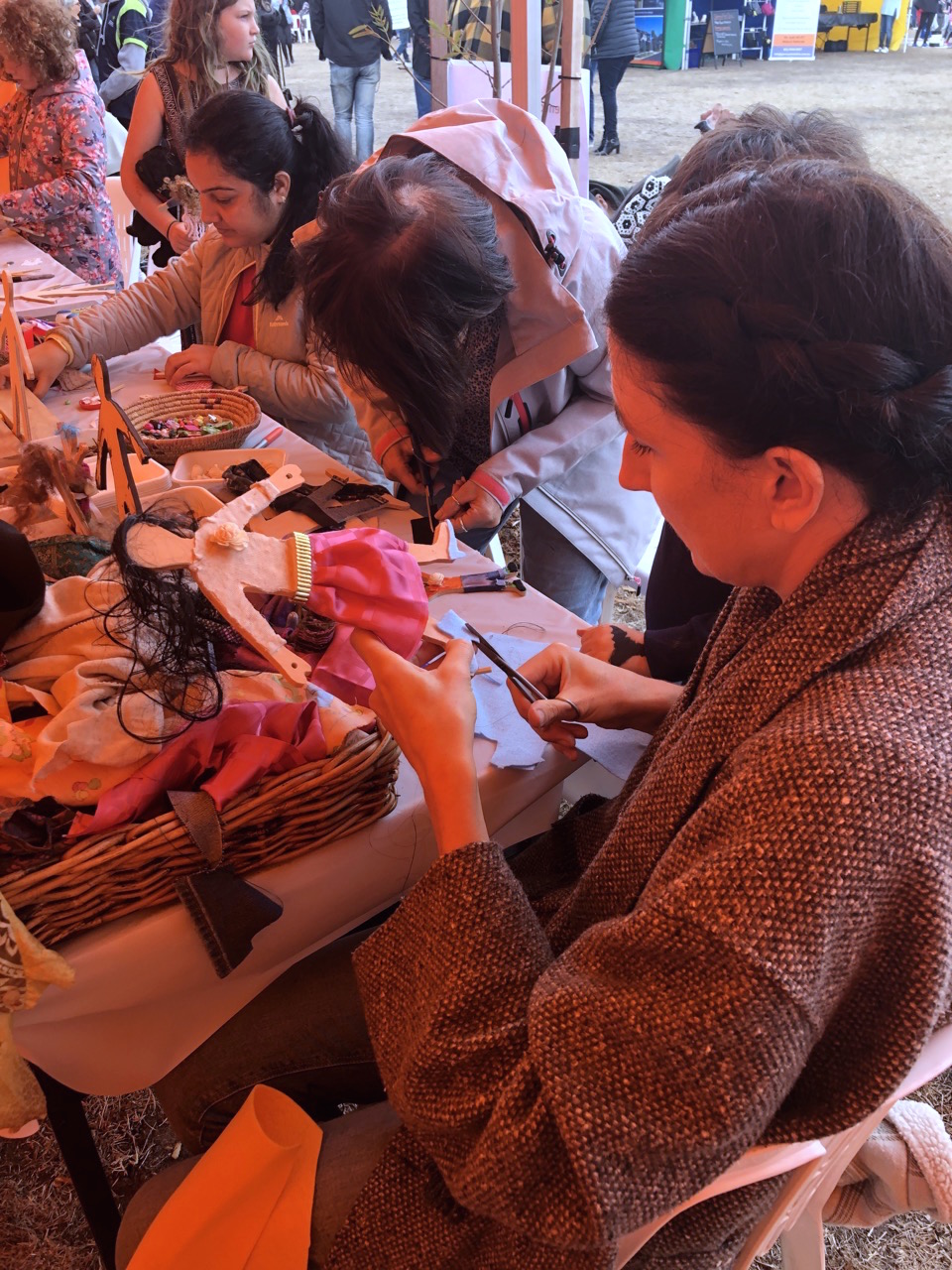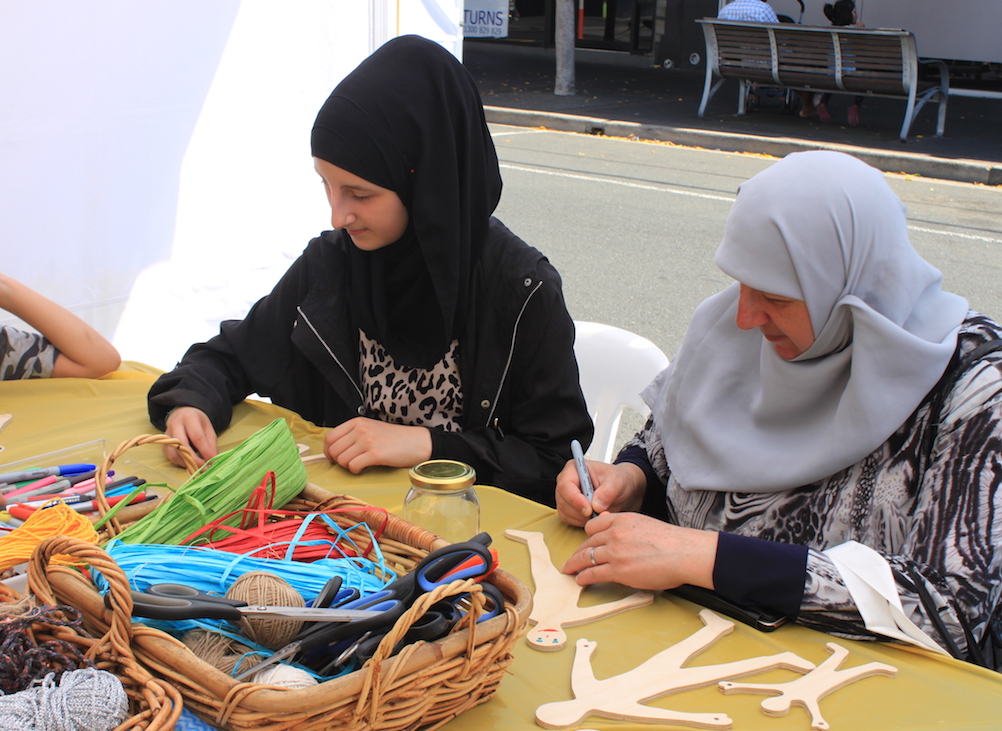 Adults worked with their children, friends worked with each other and strangers became friends while working side by side chatting about their neighborhood while creating their figures.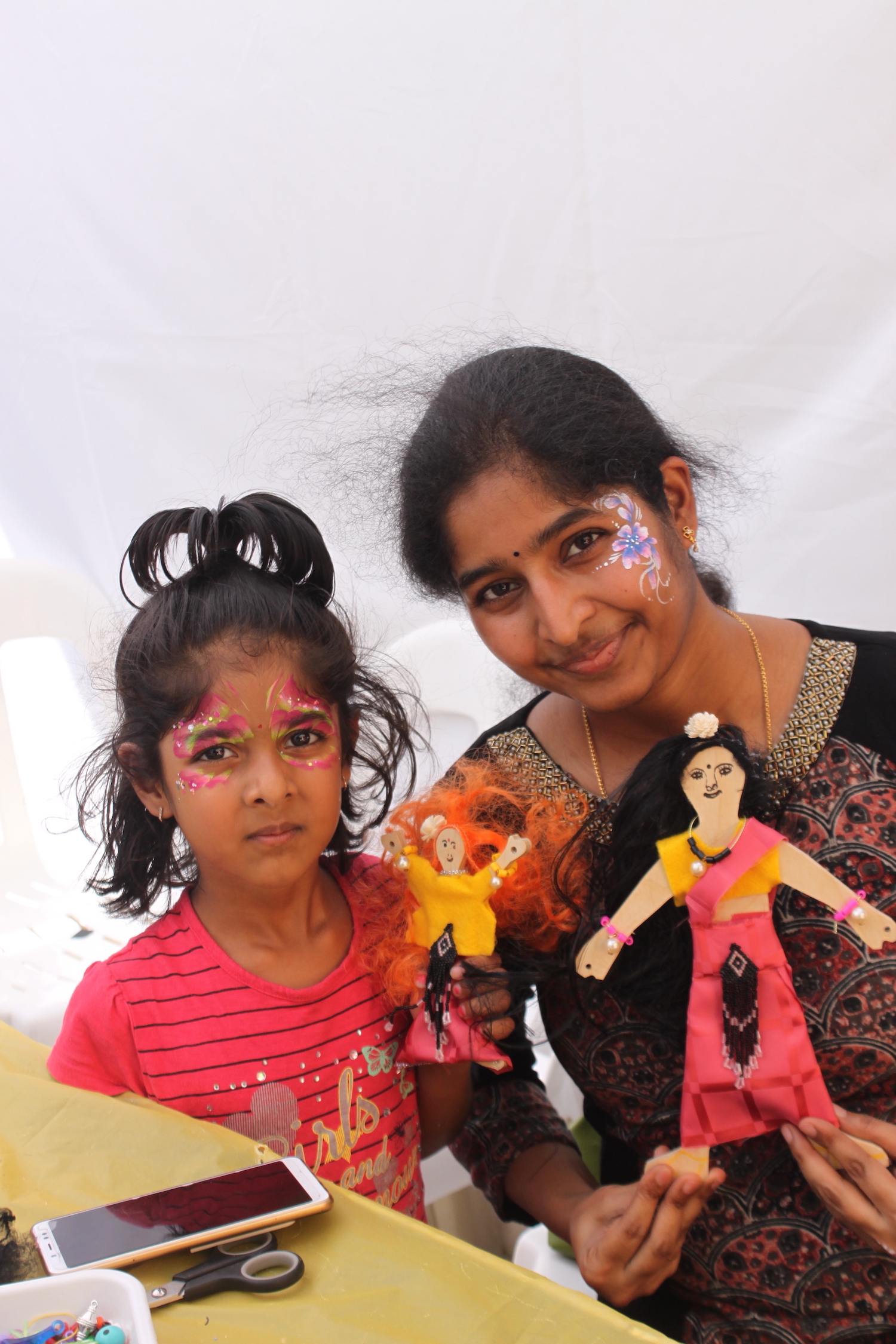 Once completed, the project was gifted to the Moreland council and hung in the Glenroy and Fawlkner libraries for community members to enjoy and revisit time and time again.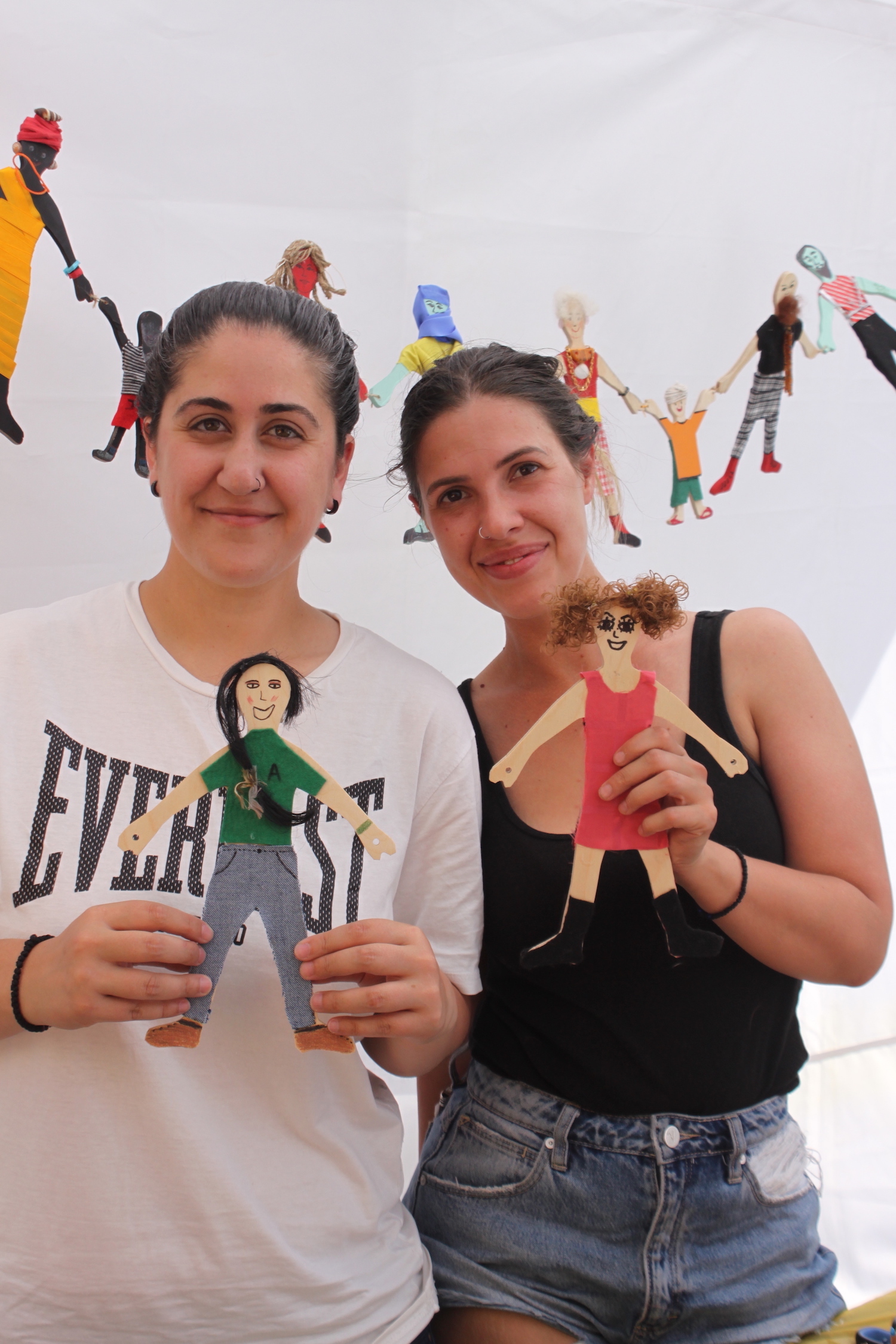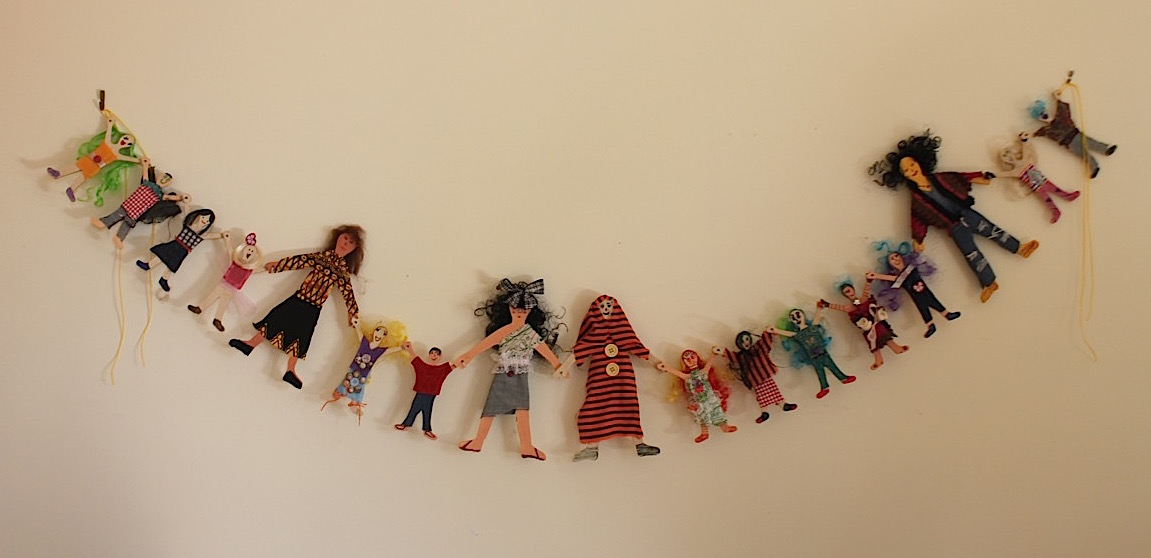 2019 City of Whittlesea
Black Saturday Ten year commemeration workshop
MESSAGE STONES
Whittlesea Community Garden
The community were invited to write memories, messages, hopes and dreams or simply draw a picture on pieces of calico. The fabric was soaked in eucalyptus water which colored it slightly while still retaining the breath of the bush.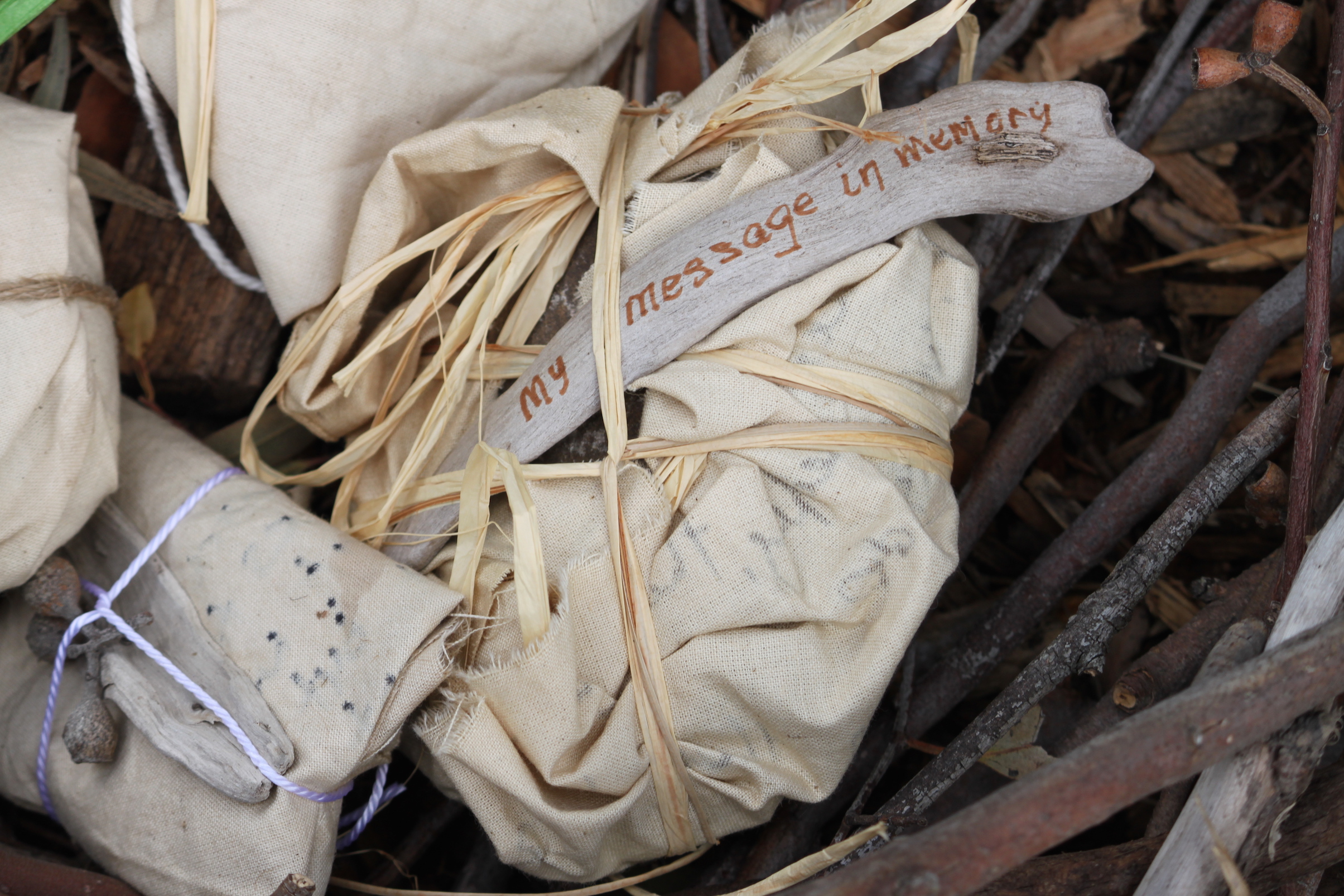 Simply beautiful- this message stone says it all.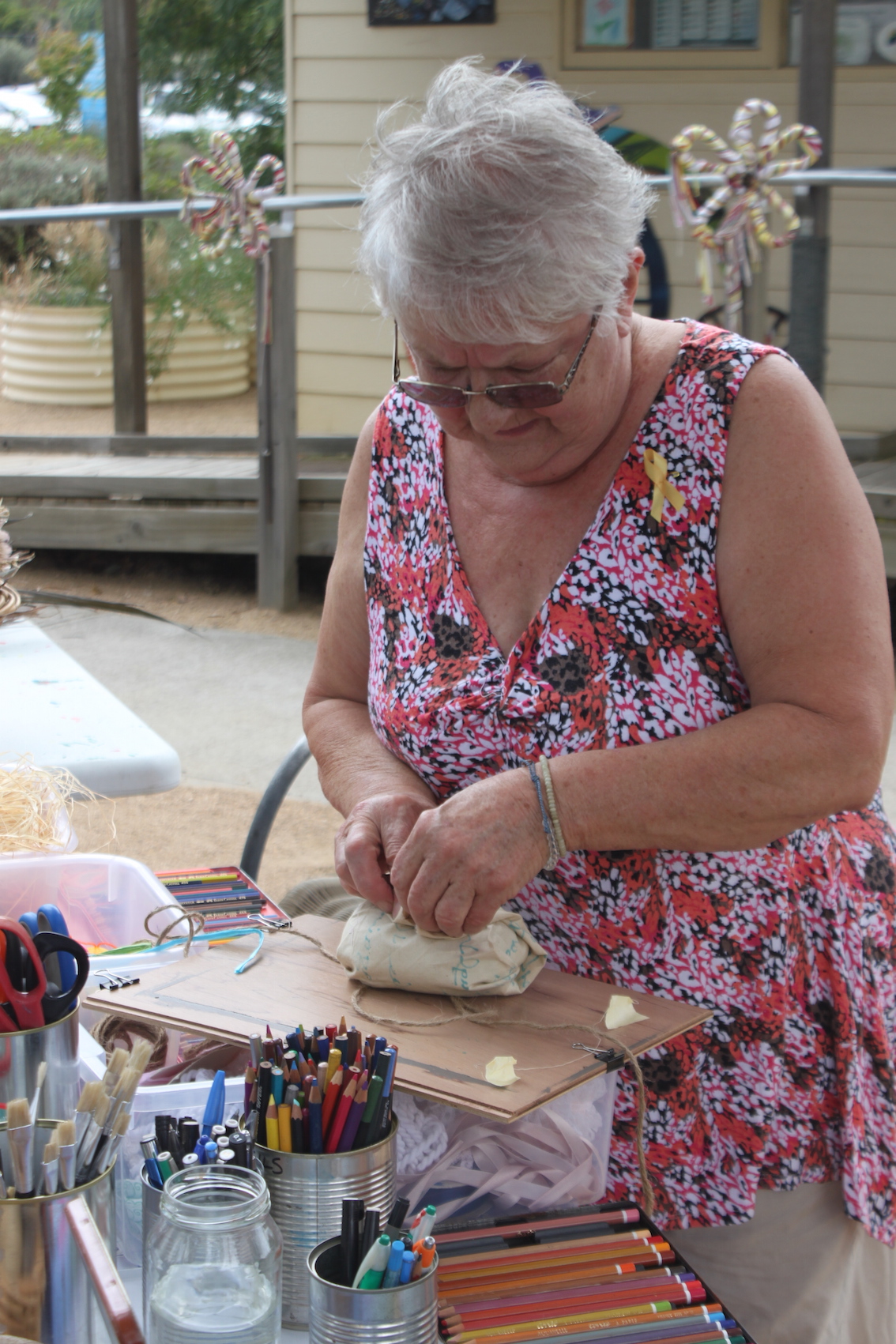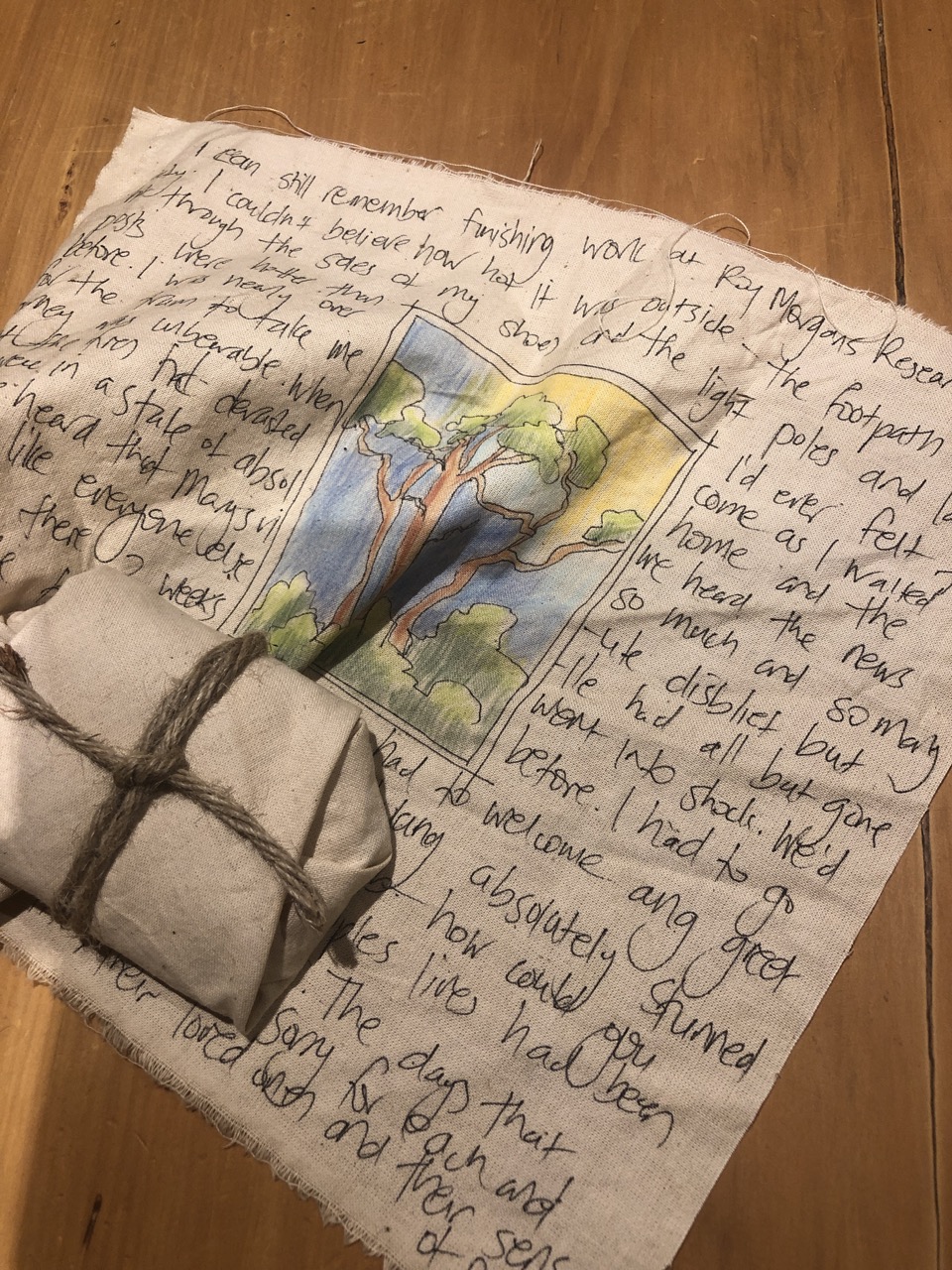 The stones were wrapped with the messages on the inside and decorated with natural bush fragments and string creating a very personal memory.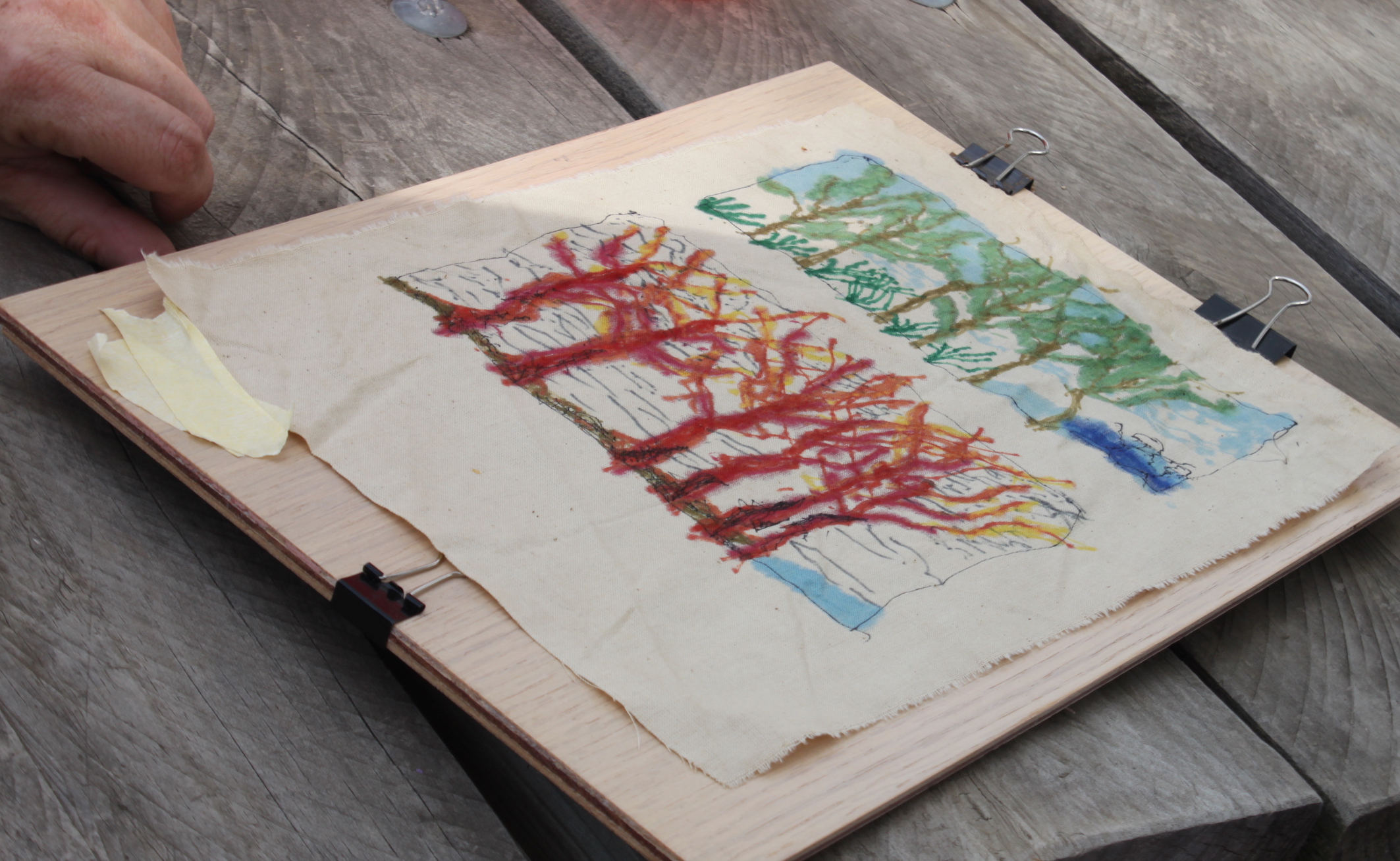 painting the before and after.....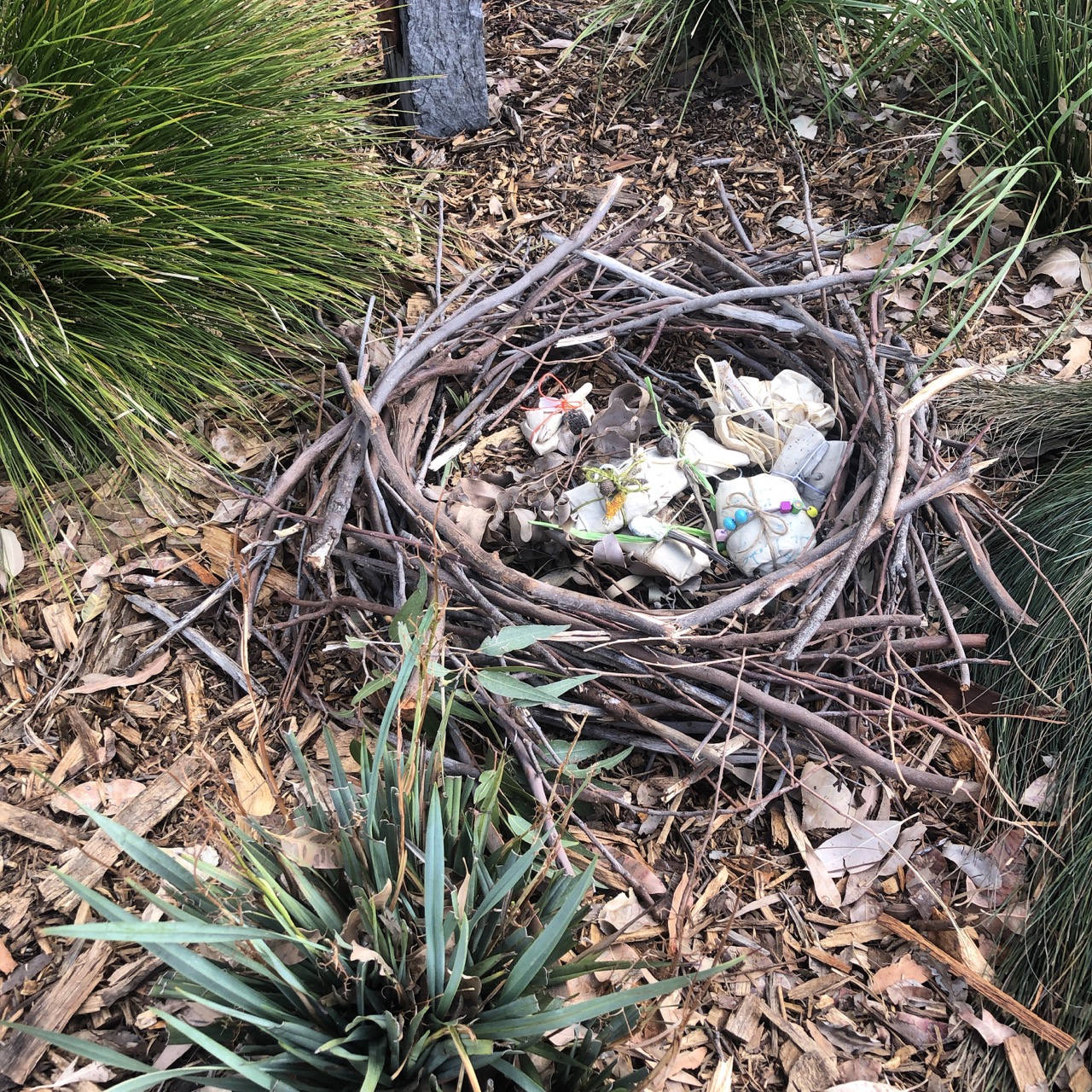 The message stones were either taken home or placed in this beautiful nest where they will rest until the earth reclaims them.
This was a moving and incredibly inspiring workshop which offered community a sanctuary to help them get through this day.
2018 Lorne Sculpture Biennale
Lorne Reserve
SPECTACULAR SEA DRAGONS
Avis Gardner and I enjoyed working together again on this project for the Lorne Sculpture Biennale education workshop series. Community members of all ages participated in this creative environmental workshop to make their very own Weedy Sea Dragon out of natural materials and recycled fabrics while learning about the importance of marine life and what each of us can do to look after it.
Avis and I convinsingly dressed as Weedy Sea Dragons in front of the kelp forest.We had everyone fooled!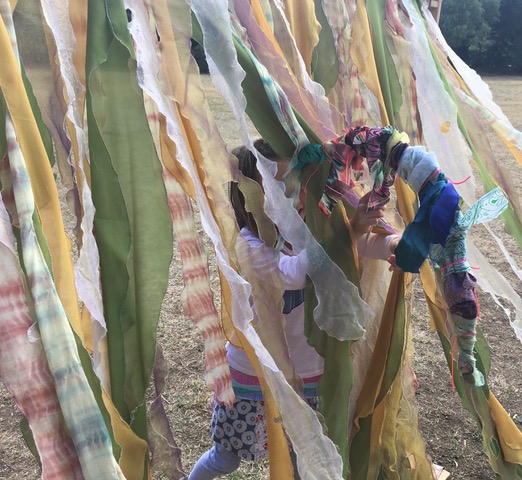 One participant dancing with her Sea Dragon amongst the kelp forest.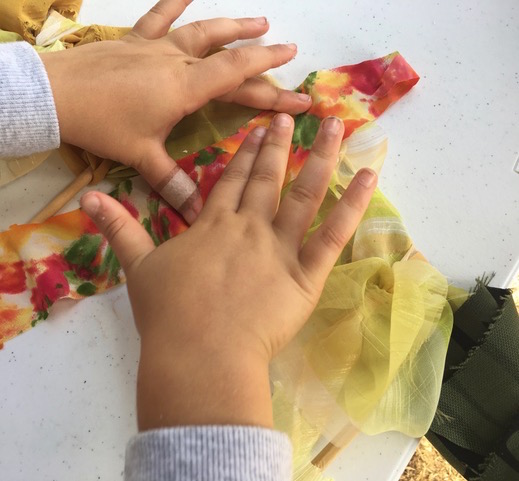 Even the smallest hands enjoyed the worshop.
---
2018 City of Whittlesea
Whittlesea Community Activity Centre
COMMUNITY FESTIVAL CHANDELIER WORKSHOP
I spent a wonderful afternoon with Lee Mc Gill and members of the Whittlesea CWA helping them create chandeliers out of natural and recycled materials for display at the Whittlesea Community Festival. These creative women didn't need any encouragement at all to make really distinctive and decorative chandeliers to hang from the trees for the day
Just some of the materials used to make the chandeliers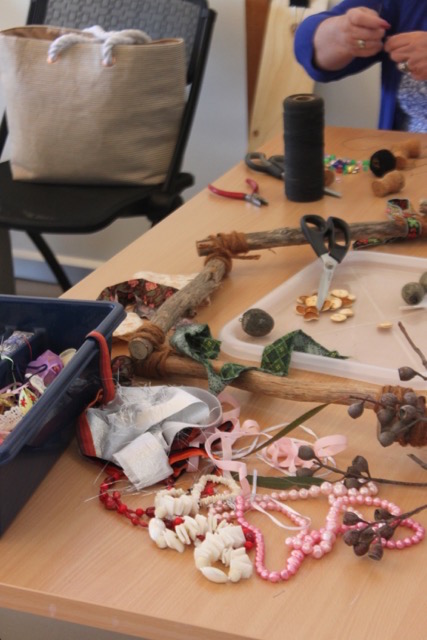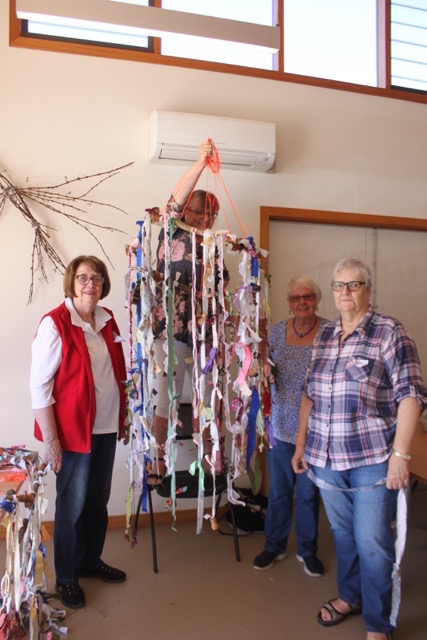 Some of the participants with their finished work.
---
2017 City of Whittlesea
Whittlesea Community Garden
BACKPACKERS FOR BUGS
Avis Gardner and I had a very busy day with the local community making sustainable Backpackers for Bugs using a range of recycled household objects and natural materials to take home to their own gardens. Participants also contributed to creating a communal clay backpackers for bugs for the community garden.Everyone had a fantastic day making their backpackers while also learning about the importance of active insect life in the garden.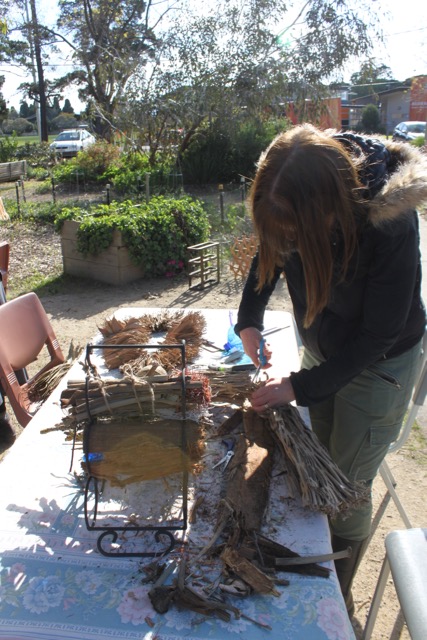 Megan hard at work.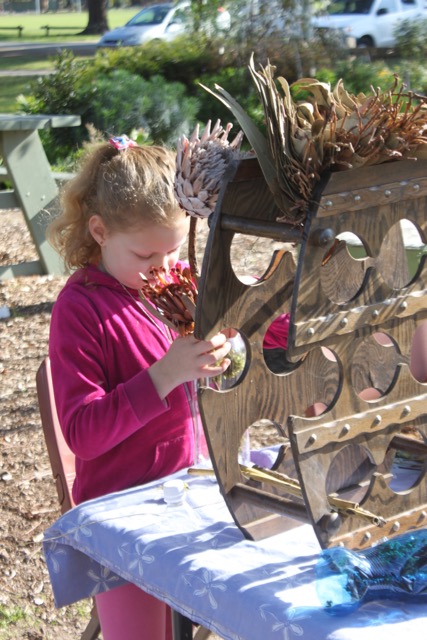 Participants of all ages anjoyed making their Backpackers for bugs.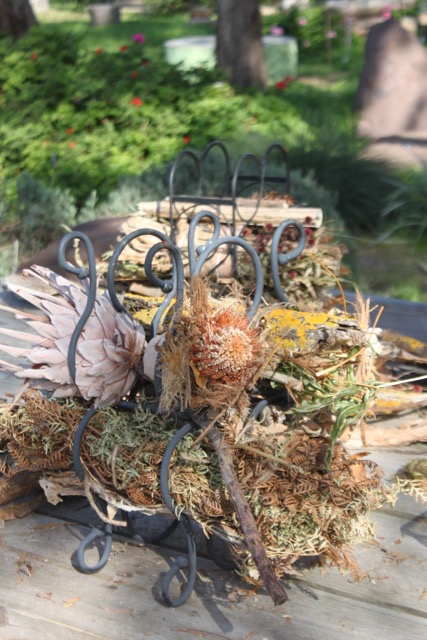 We used lots of beautiful natural materials.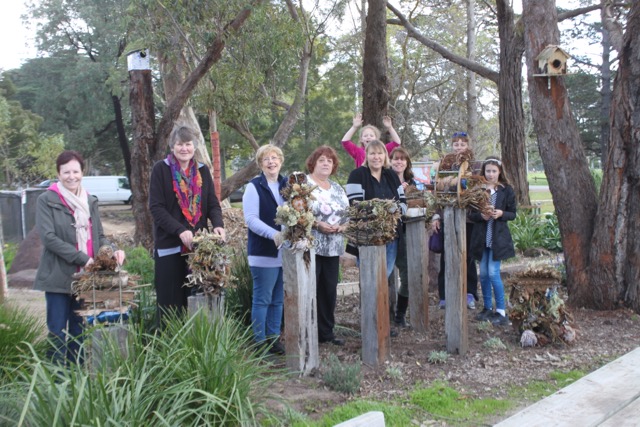 Everyone was very happy withe their finished pieces.
---
2017 Qdos Arts
Lorne
ALL THINGS BOTANICAL
A three day workshop in Graeme Wilkie's fantastic studio space at Qdos using recycled metals and found objects to create botanically inspired sculpture. Participants explored methods of transforming metal objects and fragments into freestanding botanically inspired sculptural pieces. Everyone learnt how to cut, rivet and alter the metal to make a finished work of their own design and then explored different methods of creating a patina, an aged surface and plenty of other useful skills.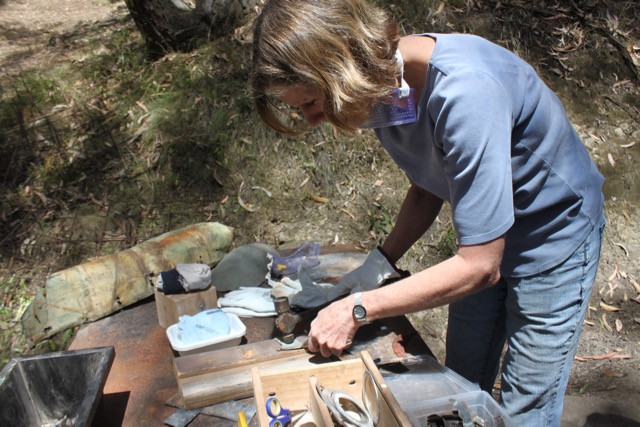 There was no stopping Liz G!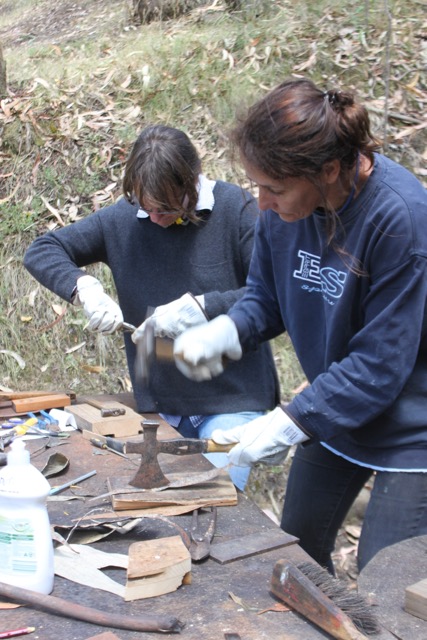 We were able to work outside when the weather was clear. It was a lovely few days in beautiful surroundings.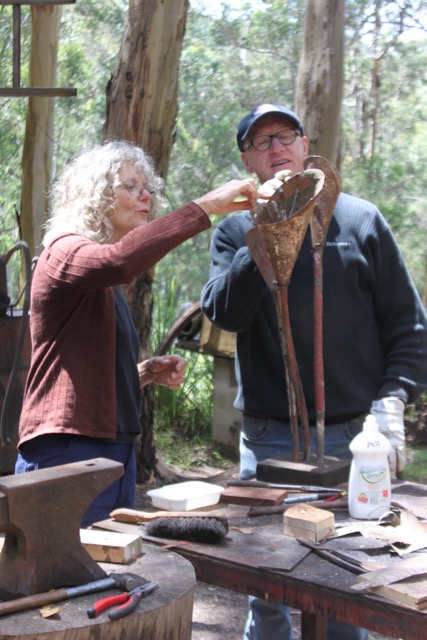 Discussing a few finishing touches with Gav.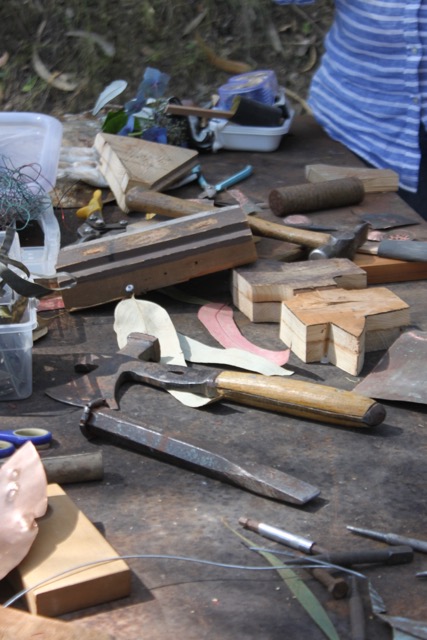 It takes many tools to make sculpture!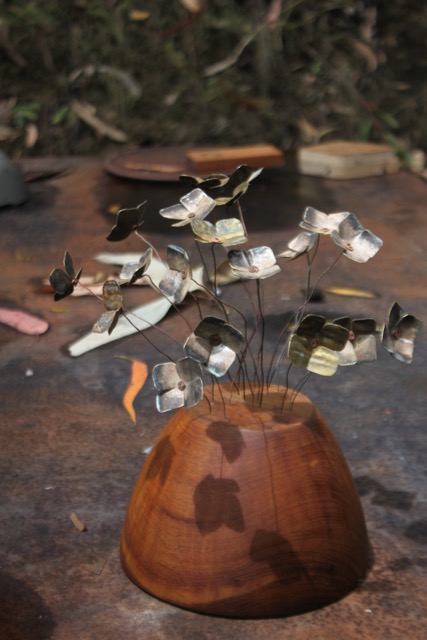 Kerry's finished sculpture made using vintage silver and a recyclled handturned wooden bowl.
---
2017 Whittlesea Community Garden
City of Whittlesea
THE FOREVER FOREST
Working once again with Hoss Ayres and the pupils from Whittlesea Secondary Collage and other community members , we helped transform an unplanted patch of ground into a permanent Forever forest which can be reworked and reimagined many times over to create a beautiful and sustainable addition to the community garden for many years to come.
Hoss constrcted sturdy metal trees and flower frames which were brought to the site and decorated using colourful recycled materials and natural fragments found at the garden. At the end of the workshops the trees and flowers were planted to create the Forever forest .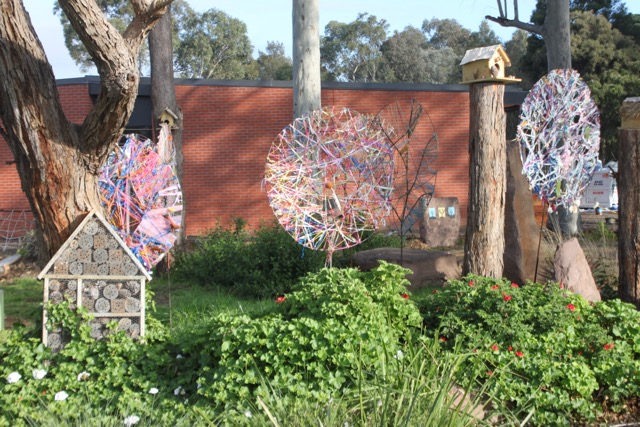 Detail of the beautiful Forever forest.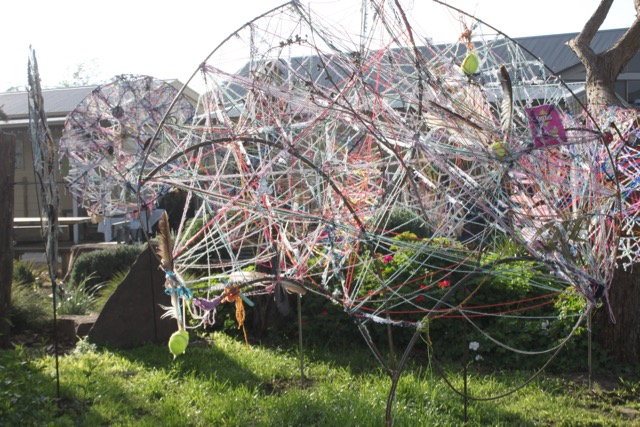 Everyone had different ideas about how to decorate their tree but the results were all very exciting and full of colour and texture.
---
2017 Whittlesea Community Garden
City of Whittlesea
VINTAGE BOOKS AS PLANTERS
This workshop provided the participants with a fun and sustainable creative gardening experience.
Unwanted hardcovered books were transformed into miniature gardens and planted out with succulent cuttings. It took a whole lot of concentration to cut out sections of the pages before gluing them together in order to create the garden but everyone got stuck into it and were really happy with the results.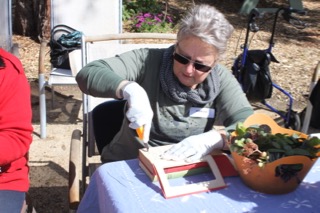 enjoying the day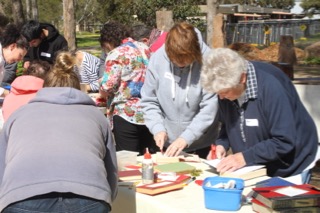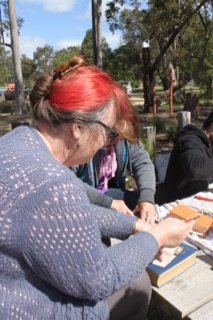 lots of laughter and lots of stories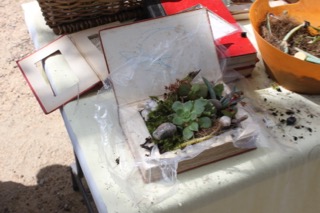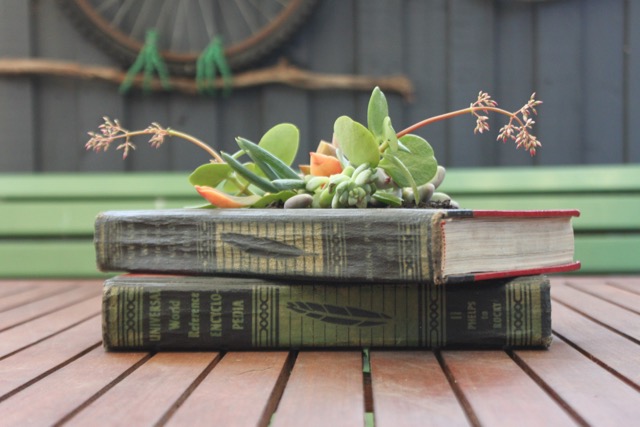 ---
2016 Olympic Village Green, Heidleburg West
Pinpoint art in public places, Banyule City Council
OLYMPIC VILLAGE TEAPEES-TALES ON THE GREEN
This project was undertaken for one day only at the Olympic Village Green.
Alomst everyone, everywhere share the ritual of drinking tea. People tell stories over tea, people comfort each other over tea and people reflect, relax and recharge over a simple cup of tea.
Recognising that India, Somalia, the U.K., China and Italy aare the main overseas countries of birth for many residenct living at postcode 3018, Avis Gardner and I hoped to foster community connections through a cup of tea.
Five small teepees representing each of the countries outlined above were erected in a semi-circle around a table and chairs. The table was covered with a beautiful cloth and laid with tea making implements and tea drinking vessels from the 5 countries which acted as provocations to encourage shared stories and memories relating to tea experiences.
We invited people at the Olympic Village Green to sit and enjoy a cup of tea of their choice while having a chat with us and others.
It was a wonderfu day and adults ,children and pets all enjoyed taking part.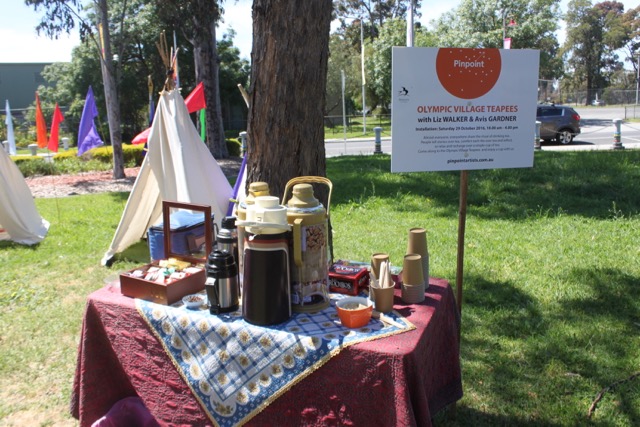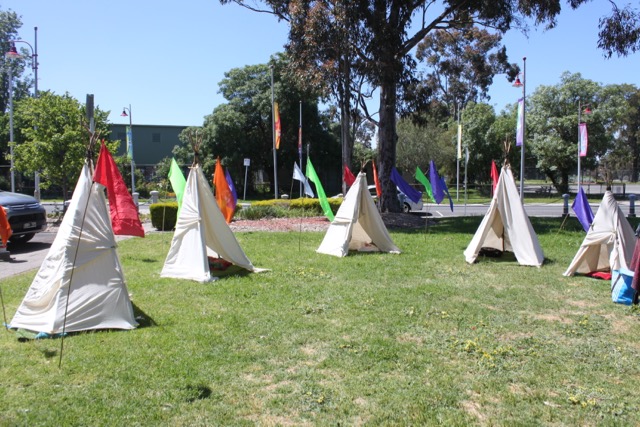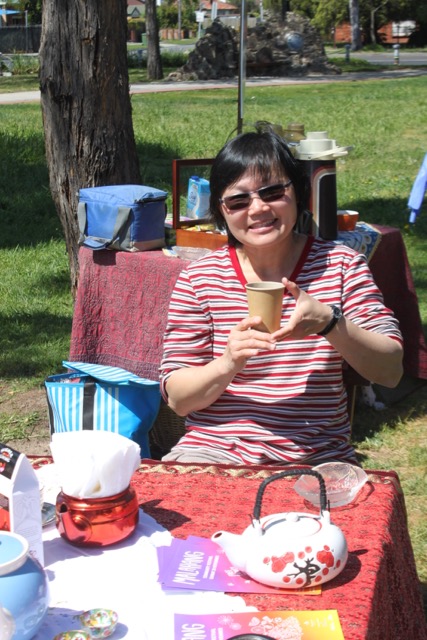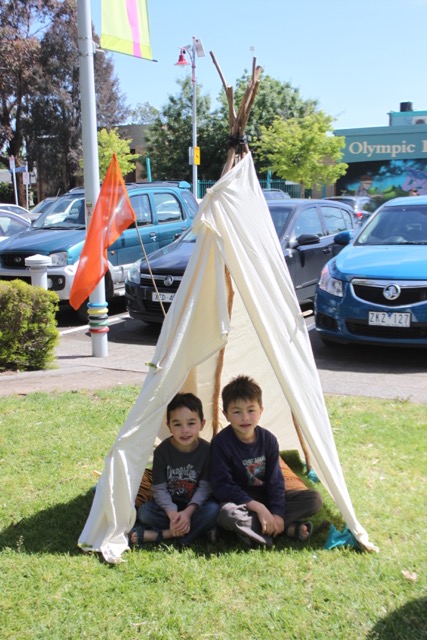 Kids loved the teapees!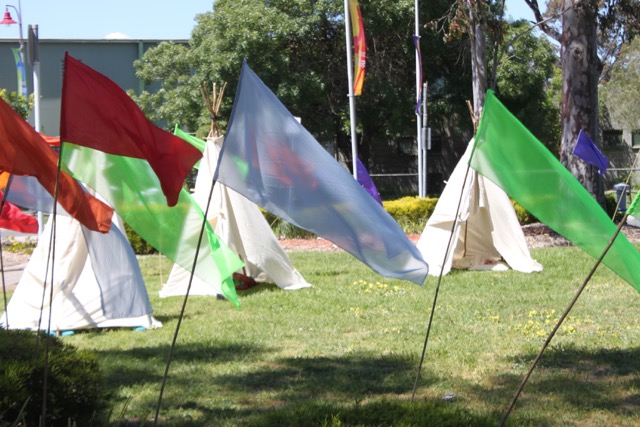 It was such a beautiful day with the sun shining and just enough of a breeze to keep the flags flying.
---
2015 Whittlesea Community Garden
City of Whittlesea
INSECT HOTELS
Avis Gardner and I worked with the local community to help them create Insect Hotels to encourage insects to populate their own gardens.We used recycled timber, sticks, vines, dried flowers and lots of other recycled materials gathered from around the community garden.
Everyone also contributed to building a large hotel out of timber pallets for the community garden.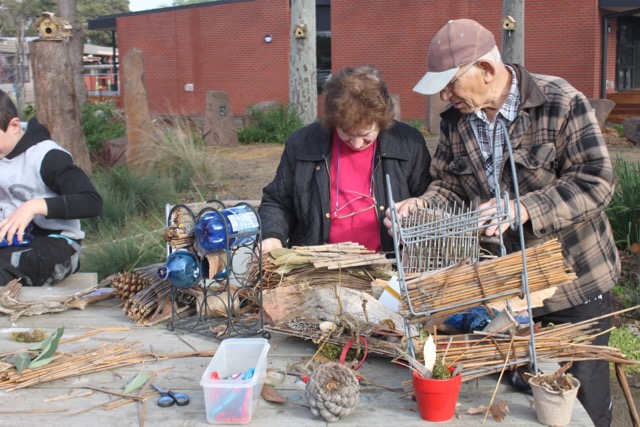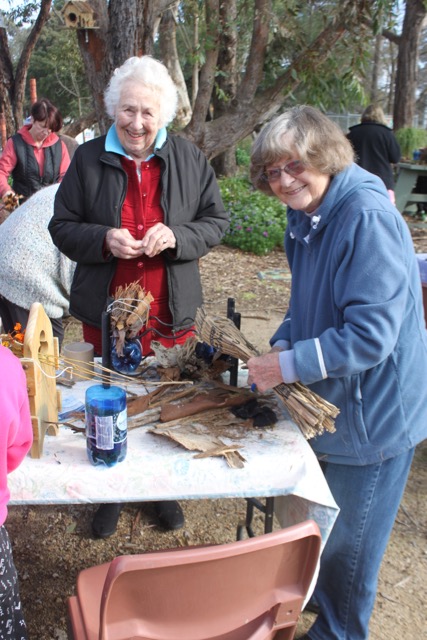 Hard at work making their Insect Hotel
---